All Things
Branson
Sponsor: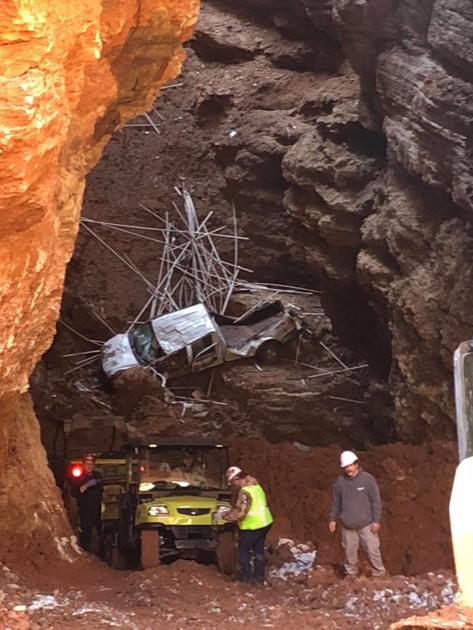 BRANSON MO NEWS: An individual was rescued after his truck fell more than 100 feet into a sinkhole at Top of the Rock Wednesday morning.Jonathan Wynn, 24, of Berryville, Arkansas, was backing up a 2008 Ford F250 at approximately 11 a.m. March 21 down a hill, drove into a sinkhole and was ejected, according to Missouri State Highway Patrol. He was not wearing a seat belt. 
According to Western Taney County Fire Protection District, the driver was transported to a local hospital. He is listed as having serious injuries.At approximately 11:09 a.m., emergency personnel were dispatched to a report of a motor vehicle accident at Top of the Rock golf course in Ridgedale. Reports stated that a truck went off the ridge of the sinkhole that is currently being excavated on the property and fell fell approximately 100-150 feet to the bottom.Taney County Ambulance was first to arrive and were able to access the patient via a road into the sinkhole. Ambulance units reported the lone occupant of the vehicle was not trapped but was injured and stable. WTCFPD units arrived and utilized an off road vehicle to assist in packaging and removing the patient from the sinkhole via the construction road. The patient was transported by TCA to a local hospital.
No other injuries were reported. The incident is under investigation by the Missouri State Highway Patrol.The sinkhole first appeared in May 2015. 
Author:
Powered by WPeMatico
All Things
Branson
Sponsor:
Related Posts
Comments
comments