All Things Branson Sponsor: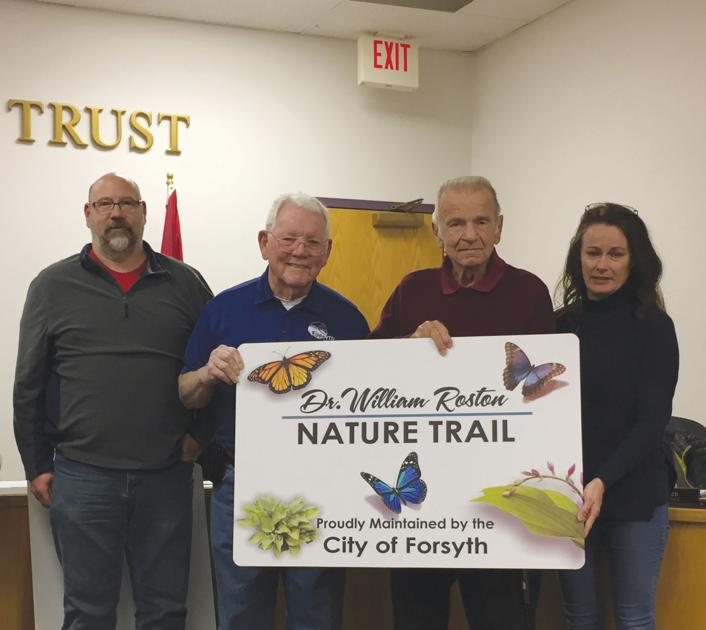 BRANSON MO NEWS: A longtime Forsyth physician and photographer was honored Monday when city officials named a walking trail after him."I'm just very thankful," William Roston said, shortly after attending the city board of aldermen meeting. "I appreciate that they decided to recognize me."Roston practiced medicine in Forsyth for 42 years, according to Roston's wife of 55 years, Judy Roston, who also attended.
The walking trail will be called the Dr. William Roston Nature Trail. The trail, which stretches from Shadowrock Park and Powersite Dam, has not had a official name, but has been informally called Shadowrock Trail, according to City Supervisor Chris Robertson.Robertson said former city Alderwoman Missi Hesketh first asked about naming the trail after Roston."She asked me about what I thought about dedicating the trail to a local doctor we all know and love," he said.Robertson said he presented the idea to the board. Hesketh then came up with a design idea for signs, which had just been completed on Monday.Roston, who said he is still practicing medicine in Theodosia, attended the meeting with his wife and two grandchildren.
There will be a more formal dedication in April at the trail site.Hesketh said Roston was a natural fit, not just because of how well-known and well-regarded he is in Forsyth, but because of his dedication to nature and his support of pollinators. Forysth recently became a Bee City USA, an awareness campaign to educate people on planting native species that promote pollinators.Hesketh said there are plans to put native plants along the walking trail, and Roston's advice will be valuable in accomplishing that.Roston said he began practicing medicine in Forsyth in 1967. He also has enjoyed growing hostas. He is also a photographer (including underwater photography) with more than 2,000 published photographs, …
Author:
Powered by WPeMatico
All Things Branson Sponsor:
Related Posts
Comments
comments